POSTPONED ** Everyone Is Dirty, The Helltones, North By North, The Y Axes
$10 – $12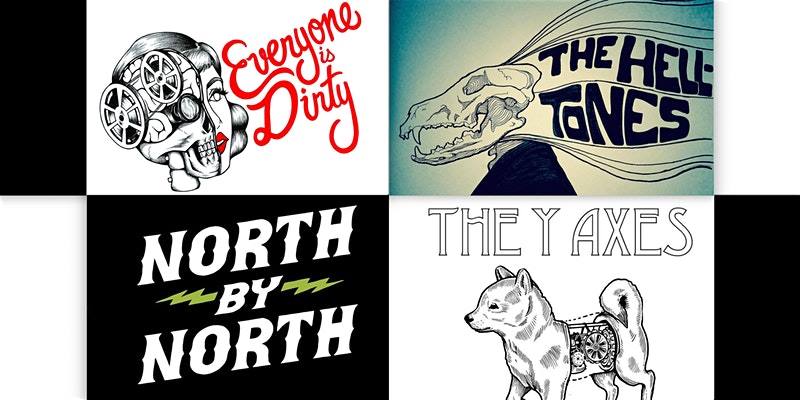 Everyone Is Dirty is a new-wave post-punk rock band that hails from Oakland, CA. Known for their manic live sets, this band is captivating and futuristic, with a strange electricity flowing through their sound.
Conceived in the waning months of 2015 by high school friends and bandmates Darwin Siegaldoud and Paul Bowman, The Helltones have since snowballed into a six piece machine bent on getting your hips swaying and your toes tapping. The sound has matured with the addition of new members, and now walks the line between the sultry and the savage with an uncanny grace.
Formed in 2012, North by North is the sweat-fueled rock & roll fever-dream of two childhood friends from the south side of Chicago. Their music was forged through years of teen angst, twenty-something alienation and a profound belief that rock music can be genuinely clever and inventive. It's a sound glued together by melodic hooks, soaring vocals, crushing guitar, bombastic drums and the kind of untethered energy that has won crowds over hundreds of shows and dozens of festivals across three countries.
The Y Axes are a San Francisco-based indie outfit who play a unique blend of dreamy, synth-glossed pop and rhythmically muscular rock. Having initially formed as a recording project by vocalist Alexi Rose Belchere and guitarist Devin Nelson, their lineup completed by bassist Jack Sundquist and drummer Paul Conroy, The Y Axes collaborate to create energetic and hard-hitting pop with intricate instrumentations and ethereal vocal melodies that can stick in your mind for weeks.
– – –
21+ with valid ID
The Uptown is located just around the corner from the 19th Street BART Station and is wheelchair accessible