Skateboard Hall of Fame "MoFo" Art Show at the Uptown
Free Entry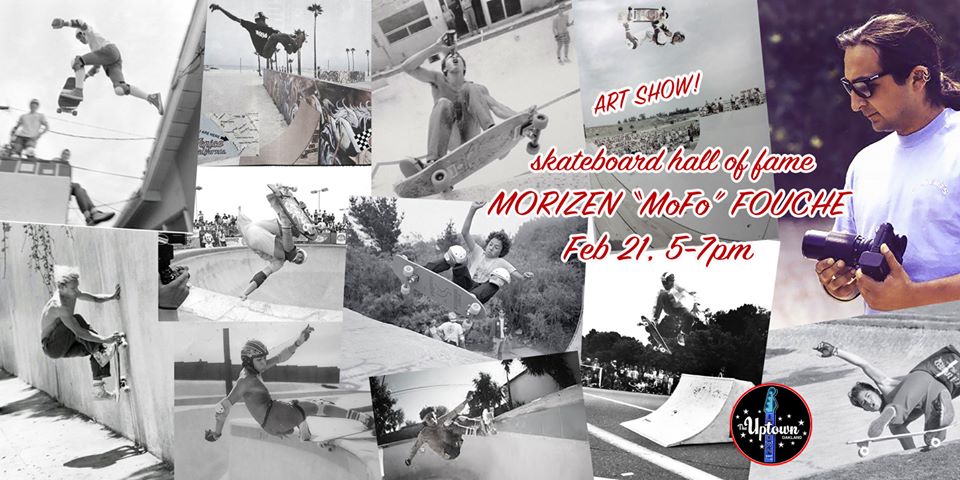 As is common with many artists, we keep our heads down and hope that those with insight will eventually recognize us. So is the case of Morizen Fouche aka "MoFo", when he was inducted into the Skateboard Hall of Fame in 2016. Starting with Thrasher Magazine, founded in Jan 1981, hiring MoFo as their second official employee. He photographed, wrote copy, designed and layed out much of the monthly bifold publication.
These days, you can pick up any skateboard publication and see his influence. From editor's notes to articles to ads, his attitude and humor are there. Back in the day when skaters skated away from cameras, MoFo was trusted as one of them. He photographed legendary skaters in their natural habitat. Parks, ramps, pools, curbs…..you name it! MoFo was there! Think about it, the backyard pool with Jay Alabamy frontside grind, drinkin' a beer! Or Jay Adams slashing the coping at Steve Caballero's backyard wooden half pipe! Come on……Seriously! What a time that must have been!
The Uptown is stoked to have this legendary figure as our next featured Artist. His work will be up for about 6 weeks, but the real clutch time is on Feb 21st:
Feb 21: Art Reception & Drunk Injunz & JFA
-5-7pm: open to the public, Art's Reception. This will be a rare opportunity for you to meet and purchase signed pieces from the artist himself. I am told that he has dug into his archives and pulled out some sweet dusty beauties for our viewing pleasure.
-7-8pm: we gotta clear the space to get ready for a night of ragin' punk rock!
-8p-2a: As if he couldn't be any cooler, do you remember that legendary punk band Drunk Injunz? Well…he's the singer! Oooops…. did I just say that out loud? Yeah well, since this is MoFo's 60th birthday, these Indian Ghost Warriors will be having a rare appearance. A voodoo like no other! You really should get your tickets for this before it's too late. Just sayin" https://www.eventbrite.com/e/skate-rock-legends-drunk-injuns-jfa-and-clay-wheels-tickets-85345700287
If you're a skater and you appreciate the giants who's shoulders you stand, then you should come out for this giant. MoFo is a humble bad ass who shaped so……. much of what is todays skateboard culture! FYI
– – –
21 and over with valid ID